Faster, more efficient onboarding with Active Directory Provisioning.
By Neil Burton
Ask your IT team to name a list of tasks that regularly interrupt their more important, strategic work and there's a good chance that 'onboarding' will appear on their list. The good news is it's a task that Armstrong IT and our partner Adaxes can easily take off their hands.
That's because rule-based automation is a key principle that Adaxes provides to simplify various aspects of Active Directory management. Adaxes can reduce the number of steps needed to provision user accounts across AD, Exchange, Office 365 and other systems by automatically executing all the operations required to get a new user up and running. Freeing your IT staff to focus their resources on more useful (and profitable) things.
How it works
When a new employee is hired, all you need to do is create a user account in Active Directory and Adaxes will then automatically take care of the rest. It can move the account to a correct Organisational Unit, add it to groups, create and configure an Exchange mailbox, activate an Office 365 account and assign licenses. It can even send a welcome email to the user and notify a manager about a new arrival.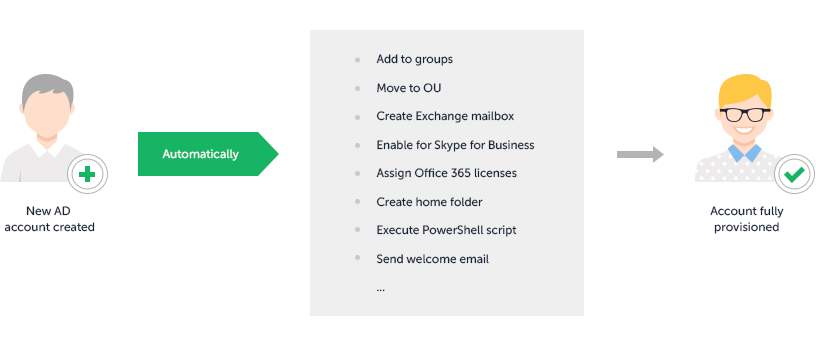 Here's the really neat bit; Adaxes can also be configured to take context into account. This means that onboarding procedures can vary depending on the new user's job title, department, office or any other criteria. So every account gets configured according to the exact needs of the user they are created for.
In Adaxes this works is by using automated workflows called Business Rules. These allow various sets of operations to be executed in AD before or after specific events. So, to configure Adaxes to automatically provision new users, you simply set up a Business Rule with all the actions that must be executed and the conditions they must follow. The rule then needs to be triggered every time a new user is created in Active Directory. Find out how to do it here – and once it's done, you're good to go.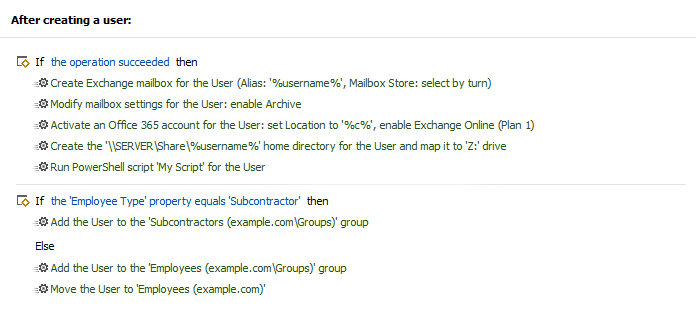 Delegation of User Provisioning
When user provisioning is automated the process becomes so simple and intuitive that it can be safely delegated to non-technical users (like HR managers) rather than interrupting IT. Accounts can easily be set up via the Web Interface by completing a fully customisable form. Once completed, the new account is fully provisioned according to the rules defined.
If you need to have more control when delegating user creation, Adaxes allows you to add an approval step to the procedure. The new user will then only be created after it's reviewed and approved e.g. by a member of IT staff or the new user's manager.

Bulk User Provisioning
Same automation approach can be applied when creating new Active Directory accounts in bulk. For example, Adaxes can automatically import new users from a CSV file, which can be generated by your HR system on a periodic basis. Once new users are imported to AD, the same automation rules will be triggered and every account will be properly provisioned.
Approvals can also be used here. For example, when automatically importing users in bulk, Adaxes can first submit them to be reviewed by the IT staff and then create and provision only those accounts that have been approved. In this way, administrators stay in charge of the process, but all they need to do is check the users that are already pending to be created and approve them with just several clicks.

Automating Other Aspects of User Lifecycle
With the help of rule-based automation, Adaxes can also simplify other aspects of user lifecycle management, such as promotions, switching departments, annual leave and sick leave, etc. Finally, when the times comes for the user to leave your organization, termination of their accounts can also be automated, effectively doing provisioning in reverse. See how to configure user de-provisioning.

Arrange a demo
At Armstrong IT we take on your IT challenges and make them our own, consulting with you to fully understand your business objectives and provide the expertise to help your business deliver the efficiencies that will make life easier for everyone.
By automating user provisioning as well as other parts of user lifecycle management, we can easily help to make the overall process much faster and significantly more reliable. You can also take administrators out of the loop at points where they shouldn't be present and delegate tasks like user creation outside the IT department. As a result, onboarding, offboarding and managing user accounts can become much simpler and allow everyone to focus on their jobs, rather than wasting time on the maintenance of technical tasks behind them.
Sign up to our Adaxes Newsletter