Reducing the burden on your IT team with Office 365 Automation and Management
By Neil Burton
To meet today's business needs more efficiently and cost-effectively, we're finding an increasing number of organisations are switching to Office 365. But as well its considerable advantages and extra features, Office 365 also creates increased complexity and additional process challenges relating to management of user identities and access.
At Armstrong IT we know the last thing your busy IT teams need are extra admin tasks to add to their list. Which is why we regularly take on the problems that bog your IT teams down and prevent your organisation meeting its objectives.
One of the major problems we've uncovered with Office 365 is how to get users into your organisation's Office 365 tenant and how to grant specific users access to the services they need for their specific duties.
The answer is to automate Office 365 management tasks and we recommend Adaxes to deliver the missing layer of automation and policy enforcement you need to meet compliance and efficiency goals.
Office 365 Automation
Office 365 has no intrinsic means to automatically assign and revoke licenses for users so the burden falls on your IT staff. Exactly which licenses to assign usually depends on the role of individuals and when responsibilities change, redundant licences need to be revoked and licenses for new job functions and responsibilities reassigned.
Doing this manually is cumbersome, time-consuming, error-prone. And a poor use of your IT team's expertise. Using condition-based rules, Adaxes will automatically activate a new user in Office 365, assign user licenses and provide dynamic reconfiguration and lifecycle management. So your user automatically always has the licences they need without further intervention.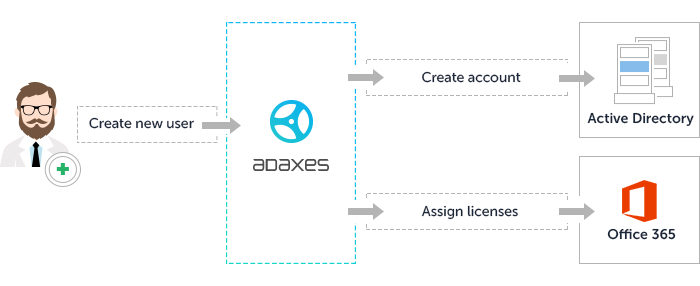 Exchange Online Automation
Here, two aspects work hand in hand; automated management of Office 365 accounts and automated management of Office 365 mailboxes. Based on event-driven rules, Adaxes can automatically enable or disable mailbox features, assign policies, adjust mailbox quotas, configure mail forwarding, etc. For example, when a new mailbox is created in Office 365 and the mailbox user is a member of a specific group in Active Directory, Adaxes can automatically enable Unified Messaging for the mailbox.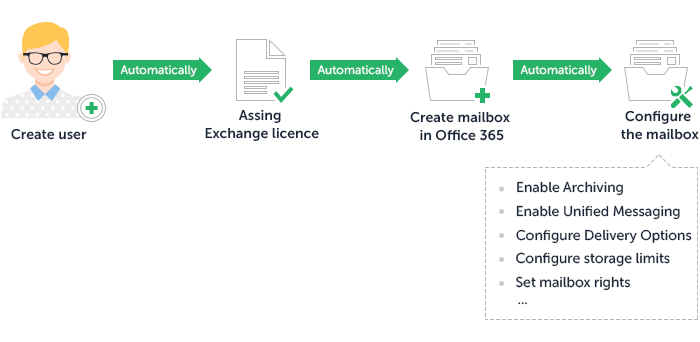 Office 365 Management
In addition to multiple tools and applications used to manage the on-premises infrastructure, Office 365 adds another set of tools for administering cloud-based user accounts and mailboxes. Adaxes means administrators no longer have to switch between different apps and tools to manage user identities in Active Directory and Office 365, making it possible to manage everything from a single web-based interface.
Adaxes supports pure cloud and hybrid deployment scenarios, which provides the ability to manage Exchange mailboxes in one environment, regardless of whether a mailbox is located in the on-premises Exchange or in Office 365.
Office 365 Delegation
The use of Role-Based Access Control in Adaxes allows more users to have a say in the administration of Office 365, makes delegation of Office 365 management tasks much easier and gives you a higher ROI on your investment.
Applying the principle of least privilege, administrative tasks related to the management of Office 365, along with the tasks related to Active Directory and Exchange management, can be delegated granularly without giving anyone more access than needed.
Adaxes provides an easy-to-use administrative web interface with a customisation flexibility that can meet any requirements and business needs – all via an easy-to-use administrative web interface with a customisation flexibility that can meet any requirements and business needs. Just what you need when delegating tasks to managers and other non-technical people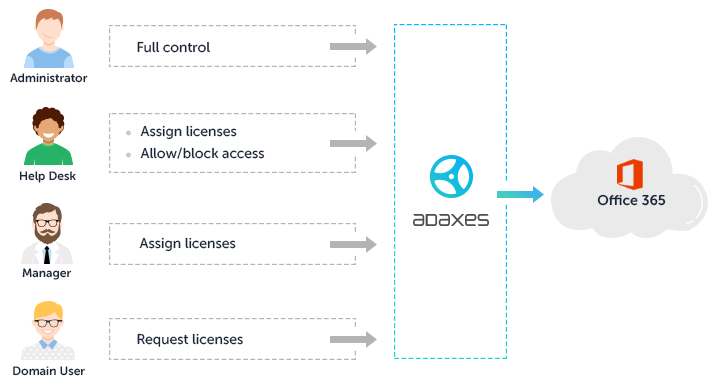 Office 365 Self-Service
To reduce the time taken to access Office 365 services and increase the use of self-service, regular users can be given the ability to choose which services they need. To control the process, access to the desired services can be granted only after getting an approval from the user's manager or another person in charge.
If Adaxes is configured to synchronize passwords between Active Directory and Office 365, the Self-Service Password Reset feature can be used to reset forgotten passwords in Office 365.
Office 365 Multi-Tenancy
The architecture of Adaxes allows you to manage multiple Office 365 tenants in one administrative environment. An Office 365 tenant can be associated with users and groups located in specific Organisational Units, members of groups, objects located in an Active Directory domain or multiple domains across multiple forests.
Apart from Office 365 management and automation, Adaxes also provides a comprehensive range of means for automated Active Directory and Exchange management, which you can quickly and easily transform and adapt to your infrastructure.
Arrange a demo
We've been making IT easier for our clients for over 20 years, delivering tailored solutions and technical services for IT security, management and monitoring. See how Office 365 automation and management is just one of the many ways we can help your IT teams work smarter, not harder.
Sign up to our Adaxes Newsletter
Useful links