One of the key features of Adaxes is the Web Interface for Active Directory management. It enables users to execute their everyday tasks, like creating new accounts, resetting passwords, modifying AD objects and performing other management and administrative activities via a standard web browser. The Web Interface also acts as a centralised control point for multiple Active Directory domains as well as Exchange and Office 365, which eliminates the need to constantly switch between multiple tools in day-to-day routines.
Practically anything about Adaxes Web Interface is customisable. You can configure it according to the requirements of different users, which then allows you to provide them with separate Web Interfaces specifically tuned for their needs. Out of the box Adaxes comes with three pre-configured Web Interfaces: Administrator, Help Desk and Self-Service.
Active Directory Administration
Administrators can make good use of the Web Interface, as it allows them to perform all their day-to-day activities via a comprehensive and convenient UI. For example, they can create new user and computer accounts, manage group memberships, modify properties of AD objects, assign and revoke Office 365 licences, etc. Admins can also execute various bulk operations via the Web Interface, like adding multiple users to groups or resetting multiple passwords in one go, even if the users are located in different domains or forests.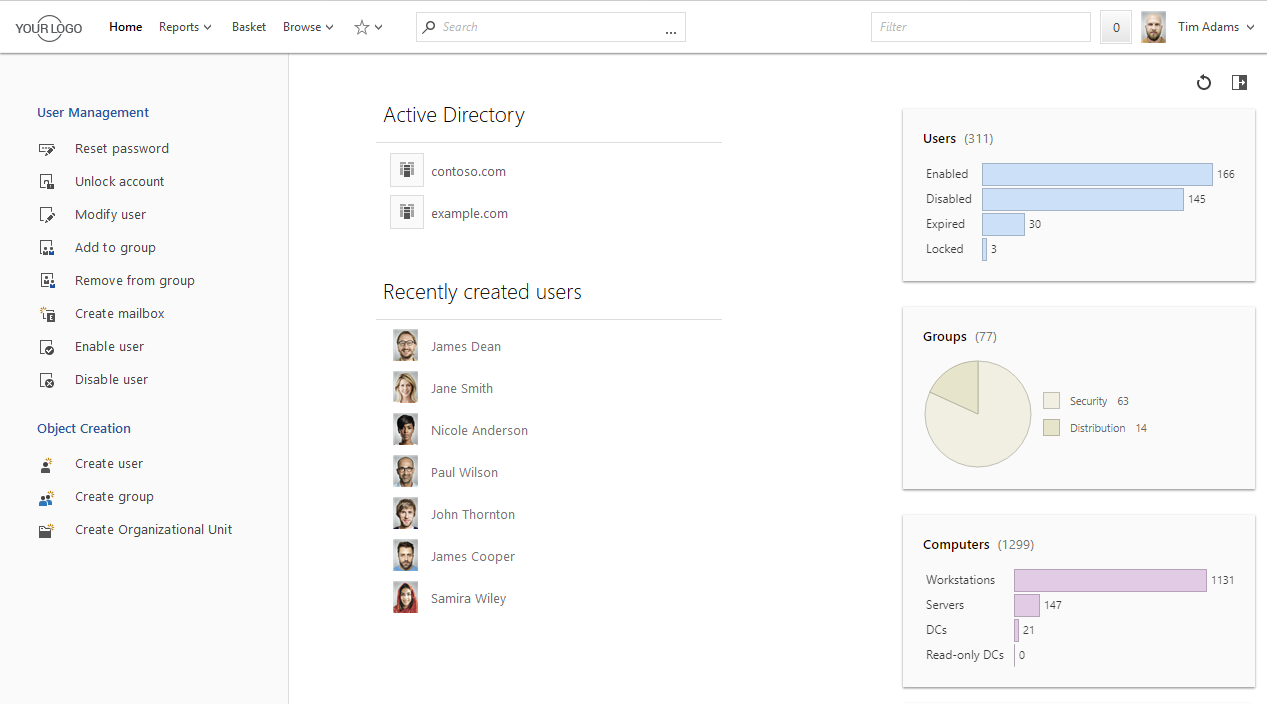 In addition to that, Adaxes provides detailed reports that allow administrators to monitor and analyse what's going on in the Active Directory environment. For example, they can view soon-to-expire accounts, users that are locked out, empty AD groups and much more.
Delegation
Although the Web Interface is a great fit for administrators, it's not just another tool solely for the IT staff. It works equally well for delegating practically any Active Directory related tasks, even to users that don't have a lot of IT skills. With Adaxes you can provide them with a simple user-friendly UI with only the views, forms and operations that are essential for their work and don't leave any room for making mistakes.
Delegating Tasks to Help Desk
Using the Web Interface, help desk technicians can do things like resetting passwords, unlocking accounts, enabling and disabling users, etc. You can also customise the operations they execute. For example, when resetting passwords, you can force the User must change password at next logon account option to be enabled and disallow to change it.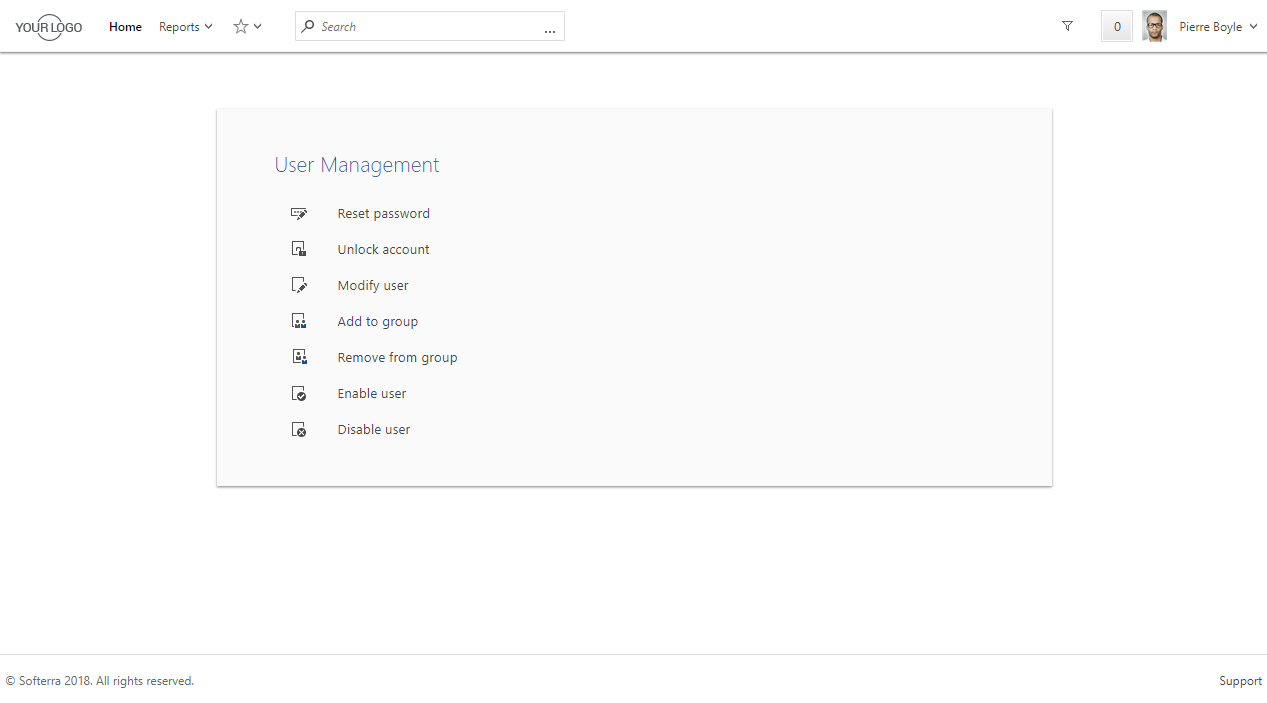 If you want to delegate more duties to your help desk staff, you can just add the respective operations to their Web Interface. For example, you can allow them to also manage computer accounts or set automatic out-of-office replies in Exchange.
Self-Service
The Web Interface can also be used by regular users for self-service purposes. You can allow them to change their phone numbers and home addresses to keep their accounts up-to-date, change own passwords, manage their distribution lists membership, update profile pictures, etc.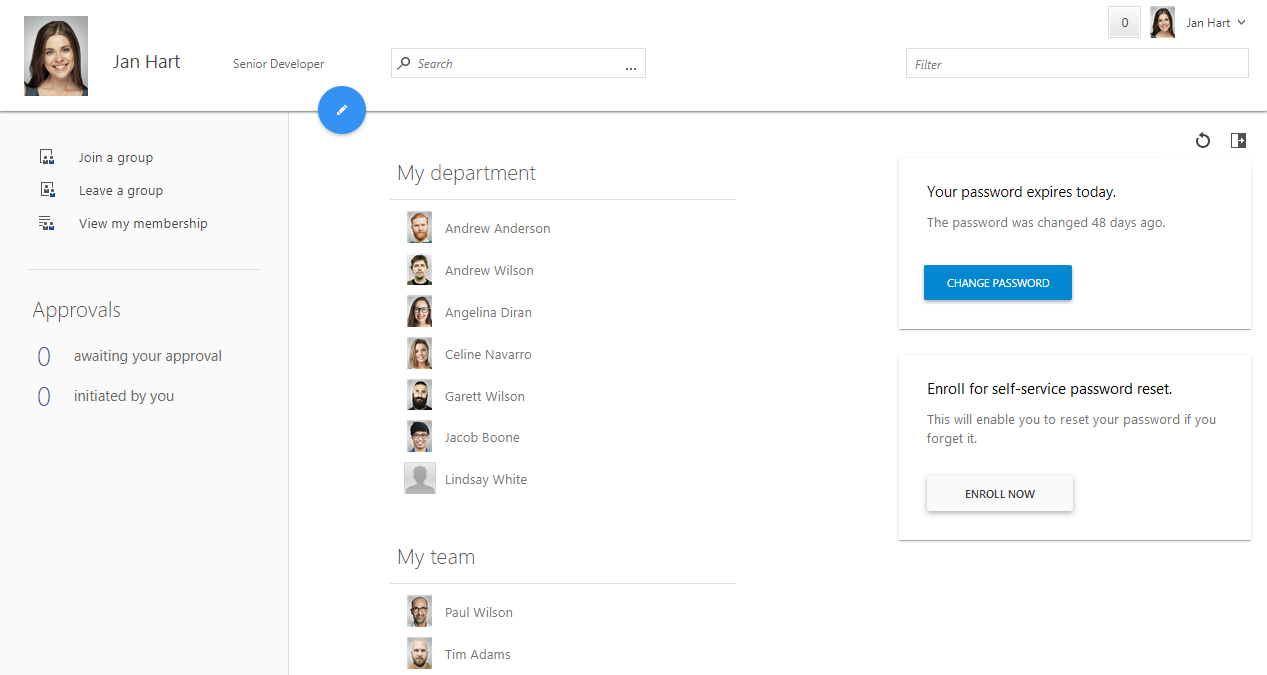 The Self-Service Web Interface can also be used as a company directory, where users can find their co-workers and view their profiles.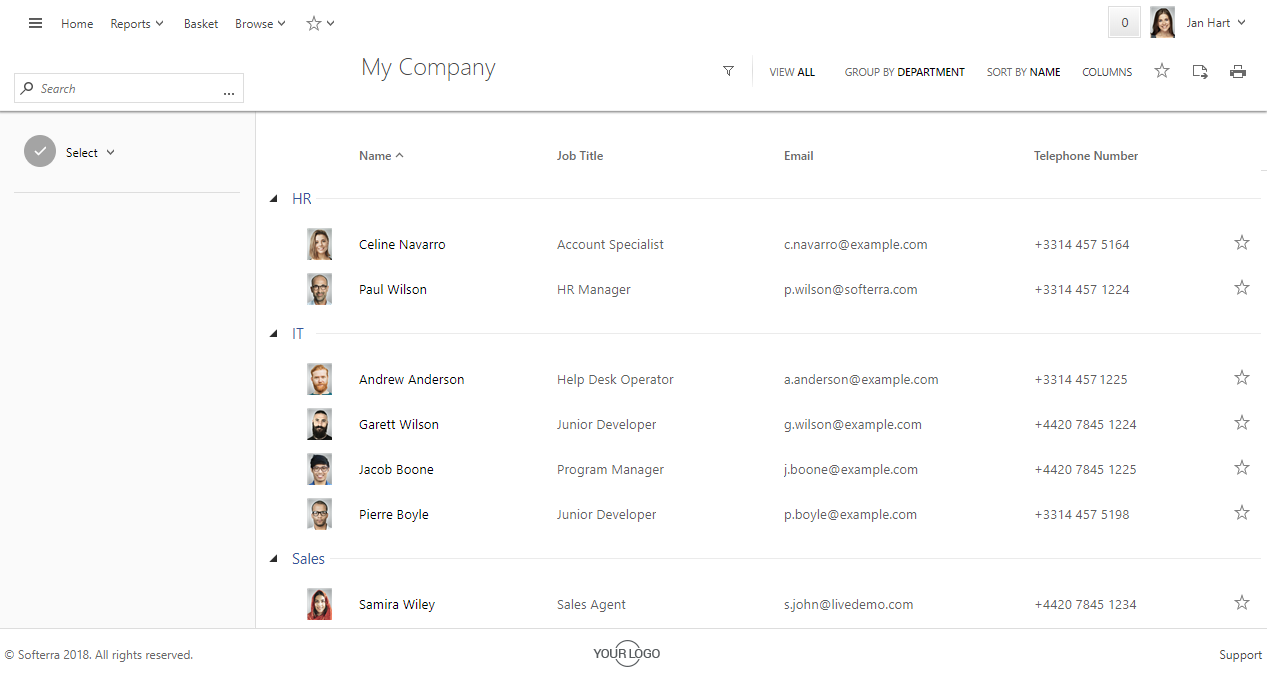 Custom Web Interfaces
In addition to the built-in Web Interfaces, Adaxes allows you to create any number of your own custom ones. You can have separate Web Interfaces for managers, auditors, HR Managers and any other category of users.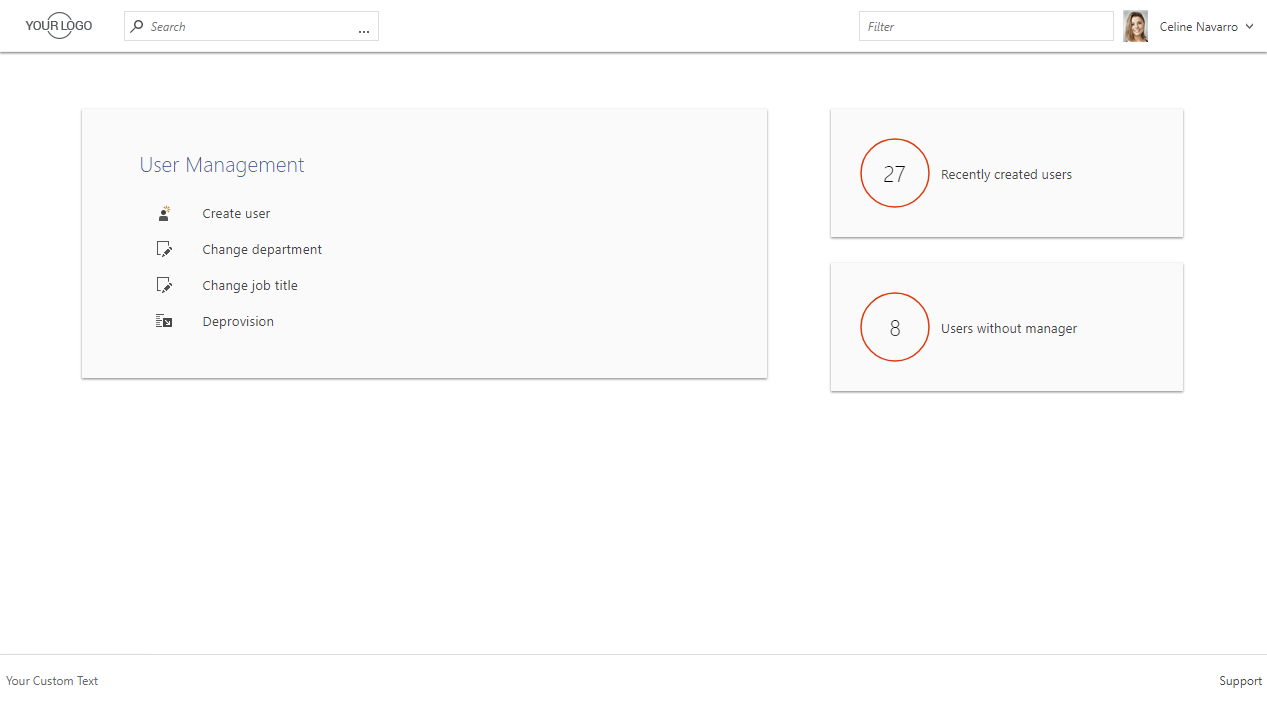 For example, a Web Interface for HR staff can only allow creating new user accounts in Active Directory via a custom form, updating fields like Job Title and Department for existing users and deprovisioning terminated employees.
Single Sign-On
By using SAML authentication you can integrate Adaxes with your corporate identity provider to enable single sign-on for the Web Interface. This way users will be able to sign in with the same authentication mechanisms they use within the rest of your organisation without the need to provide credentials every time they access the Web Interface.

Adaxes can communicate with any identity provider that supports the SAML 2.0 protocol, including Okta, OneLogin, Auth0, Azure AD, Duo, ADFS and others.
Responsive Design
Once you've given out the Web Interface to users, they can then access it from any of their devices, including phones and tablets, thanks to the responsive design.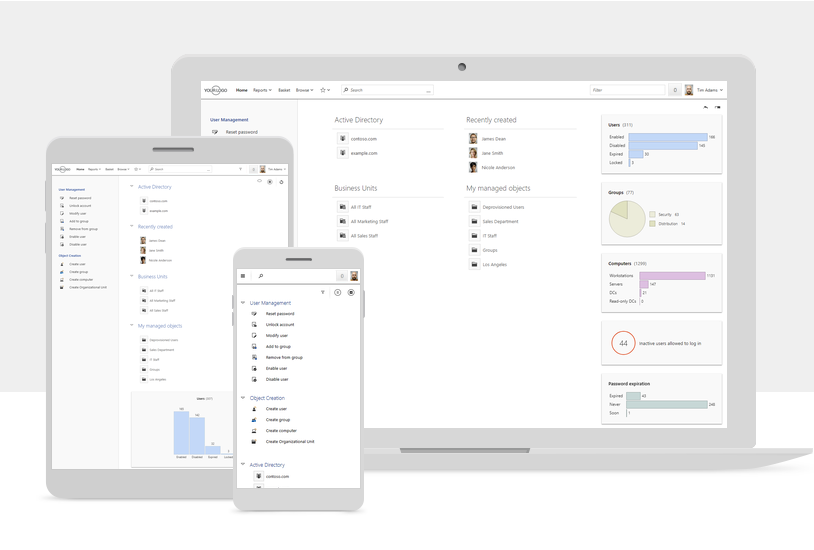 Customisation
When customising the Web Interface, you can modify its appearance by changing the colours to match your corporate design language, putting in your own logo and setting a custom favicon. This way you can tailor it to look like your own portal that belongs to your organisation.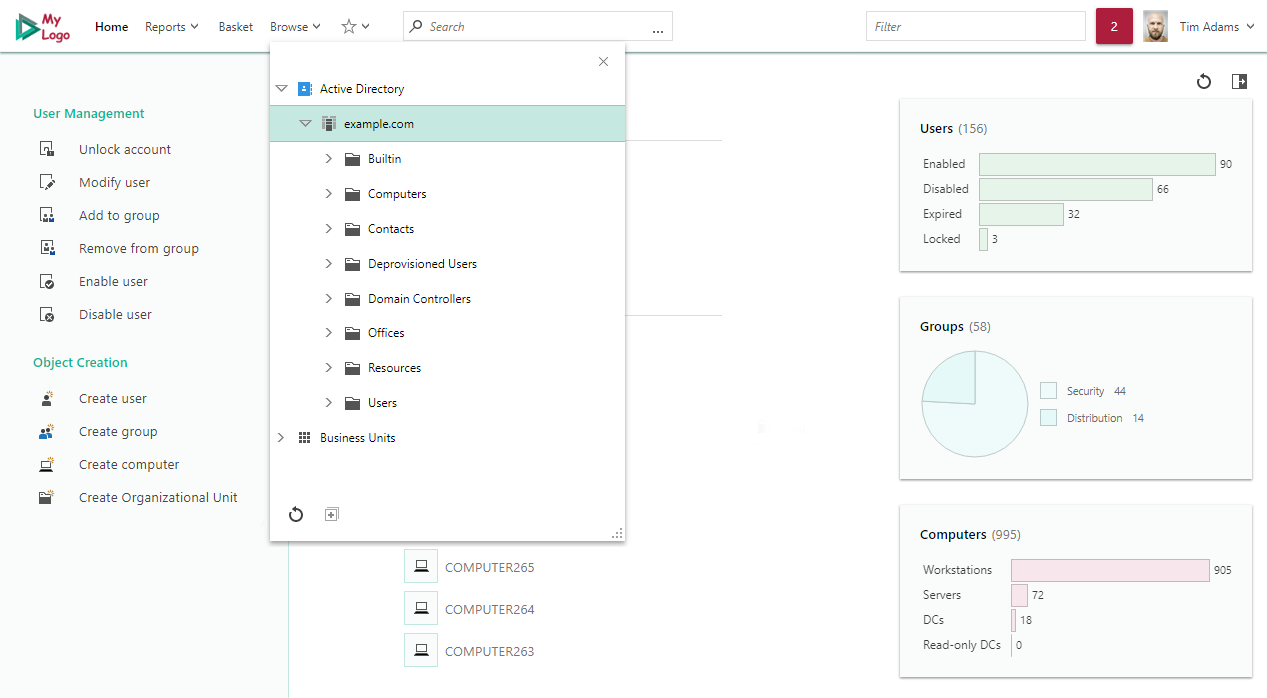 You can switch on and off entire components of the Web Interface, control which actions are available to users, limit which parts of Active Directory they can access, transform the home page, customise object creation and editing forms, etc.